Be the catalyst in upgrading your company culture from "meh" to heck yeah! In this program you'll learn how to create an empowering context that allows projects to be accomplished with ease and velocity - your team bought in, aligned and pro-actively accountable in achieving milestones.
Why should I take this course?
As a project manager, you're leading and managing your team to accomplish specific outcomes and goals. Timely completion is imperative. But when you're up against a lack of follow-through, team in-fighting or apathy, it can feel like you're the only one pushing the project forward. And it's exhausting. The Culture Works Program addresses these common workplace culture challenges and more.  (Check out the free preview section in the Course Curriculum below on "How to Shift Accountability.")
Culture Works Book and Workbook
Concrete innovative concepts, actionable mindset shifts, step-by-step activities and tangible tools to implement in your workplace right away.
You'll have unlimited 24/7 access to highlight videos, additional concepts, tools and activities to complement each chapter.
Access to timely guidance from world-renowned culture expert Kris Boesch when you run into culture challenges or opportunities along the way.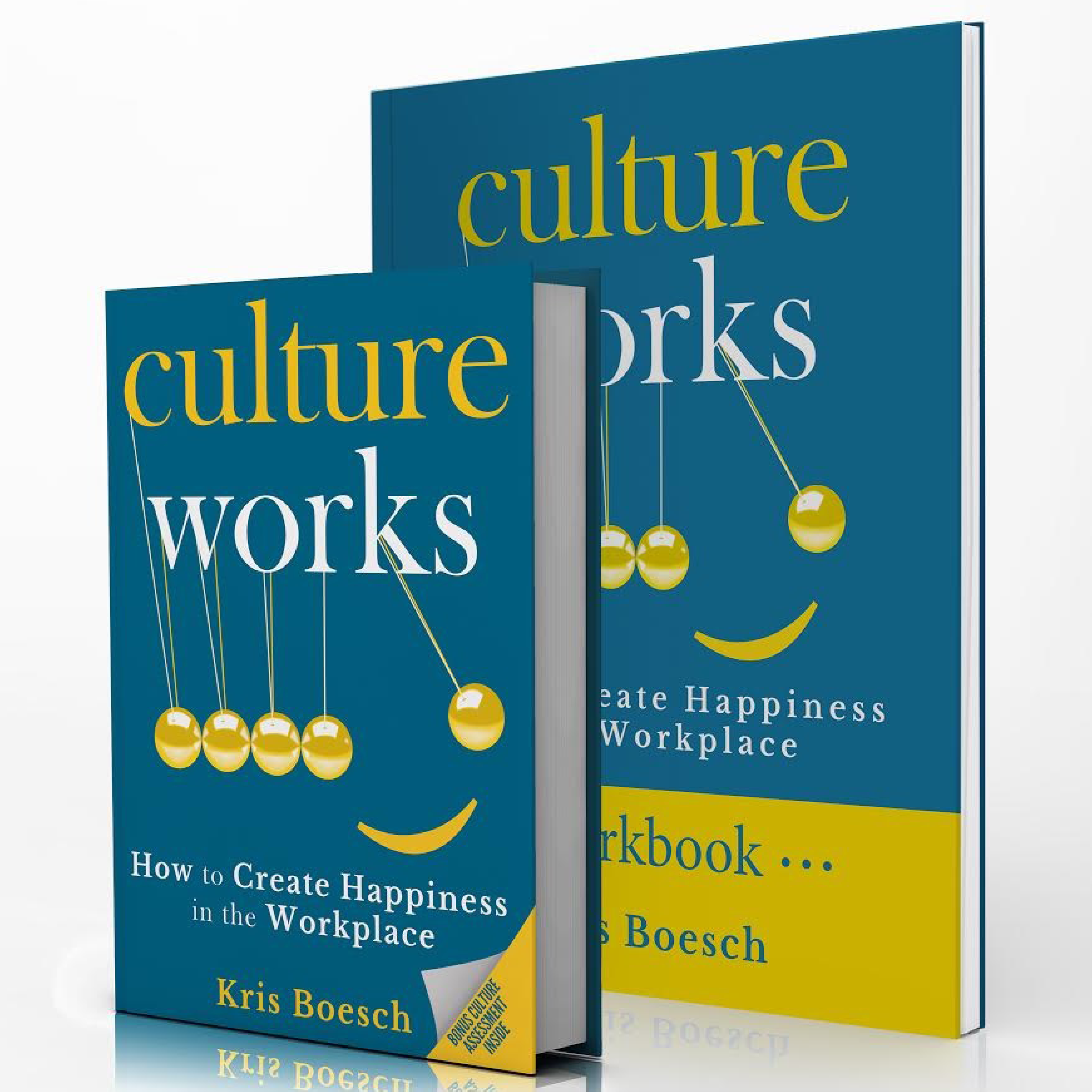 With this program, you'll receive both the Culture Works Book and Workbook!
The Culture Works Book and Workbook are intentionally how-to manuals. They are also the foundation for the Culture Works Program.
The book gives you the concrete concepts and tangible tools to create happiness in your workplace and improve your company culture. The book also includes our Culture Audit Survey where you will receive your own individual report as well as a plethora of "Action Jacksons" – down-to-earth ways to implement insights.
The workbook is a hands-on resource for integrating the concepts and tools from the book to support you in implementing meaningful shifts within your team.
We have also provided you with a template to submit for approval to your Human Resources team. See our FAQ section below to download the template.


What will I learn?
In this program, you will learn tangible tools, creative concepts and mindset shifts to create an extraordinary workplace culture for your team. As a project manager, you'll discover how to remove the social obstacles that hinder your team's progress and address the most common of culture challenges including: lack of accountability, change undermining, team disunity, gossip, silos, apathy, entitlement and drama.  Upon completing this program, you'll have the capacity and tools to create team cohesion, vitality and effectiveness in any organization.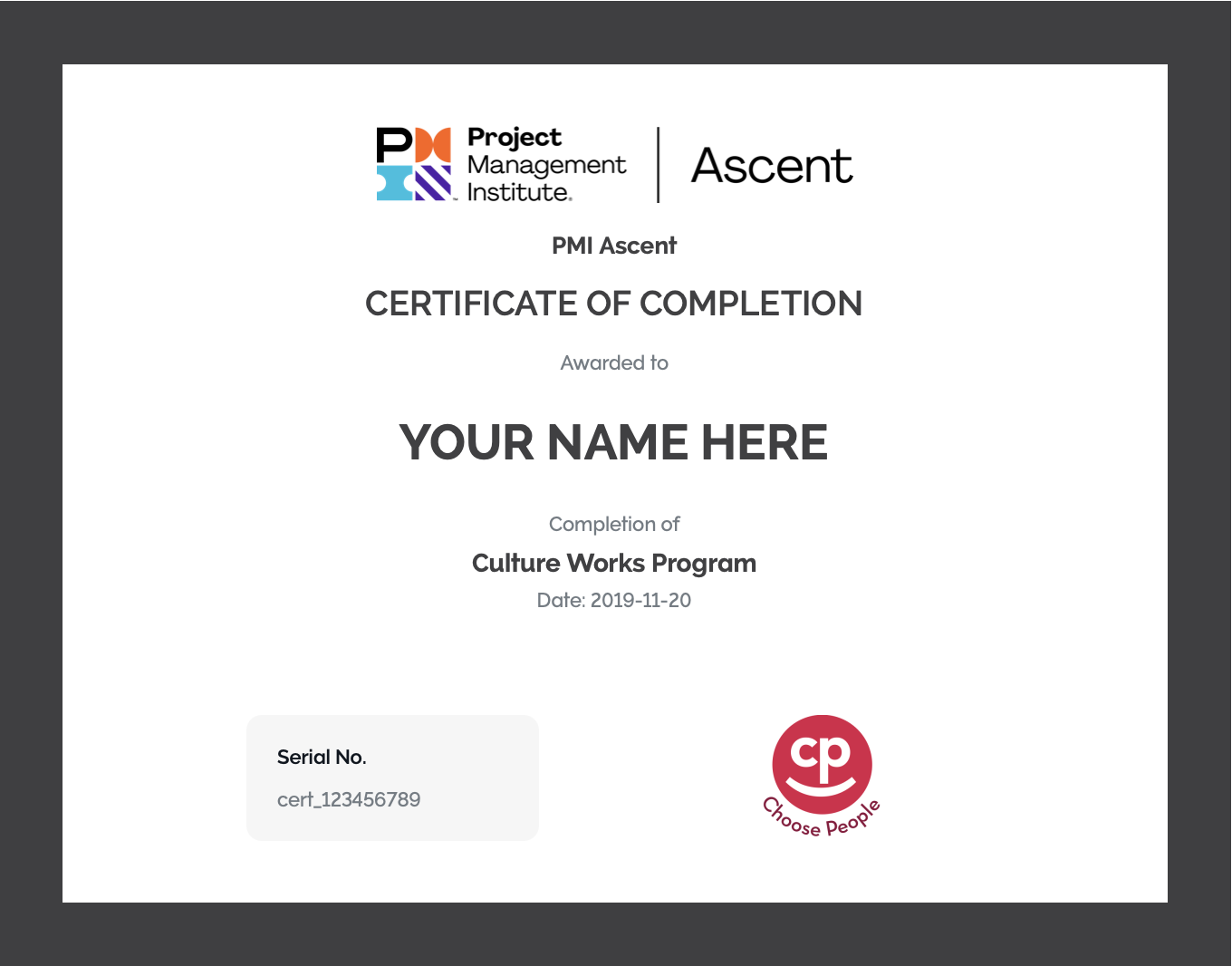 Earn Your



Culture Works Program Certificate
The completion of this course not only shows your dedication to being a culture champion, it also demonstrates to others that you have both the capacity and the competency as a project manager to create highly effective and efficient teams - teams who work well together, are accountable and accomplish projects with comparative ease.
Course Description
The Culture Works Program is in-depth training for those who are leading and managing teams. It follows the 14 chapters of Culture Works. In addition to receiving all the concrete concepts, tools and implementation support from the book and workbook*, you will have access to the online portion of this program. The online portion includes a framework to lead you from kick-off to completion along with highlight videos and additional tools, concepts and activities for each chapter. Last, but certainly not least, when you're stumped by culture challenges or opportunities, you can reach out to workplace culture expert Kris Boesch for advice as this program also includes eight months of her expert support!
*These will be promptly mailed to you upon your purchase of the program – please look for our e-mail requesting the best mailing address for you.
Your Culture Works Program Instructor
Kris Boesch is the CEO and Founder of Choose People, a company that transforms company cultures, increases employee happiness and boosts the bottom-line. Boesch has been accomplishing this work for over 10 years with teams across a variety of industries – everything from engineering to construction to manufacturing and government. The Choose People 360° Culture Audit is based on over 1000 hours of research conducted in collaboration with the Industrial Organizational Psychology Department at Colorado State University. She is also the author of the acclaimed Culture Works: How to Create Happiness in the Workplace which has been endorsed by many well-known organizational experts. Prior to Choose People, Boesch was the CEO of Exodus Moving & Storage. Under her leadership Exodus became the largest mover in Northern Colorado with a turnover rate nearly 40% less than the industry average and a bottom line twice that same average. Kris has been featured as a workplace culture expert in Inc., Entrepreneur and Forbes and was recently named one of the "Top 100 Leadership Speakers" in Inc.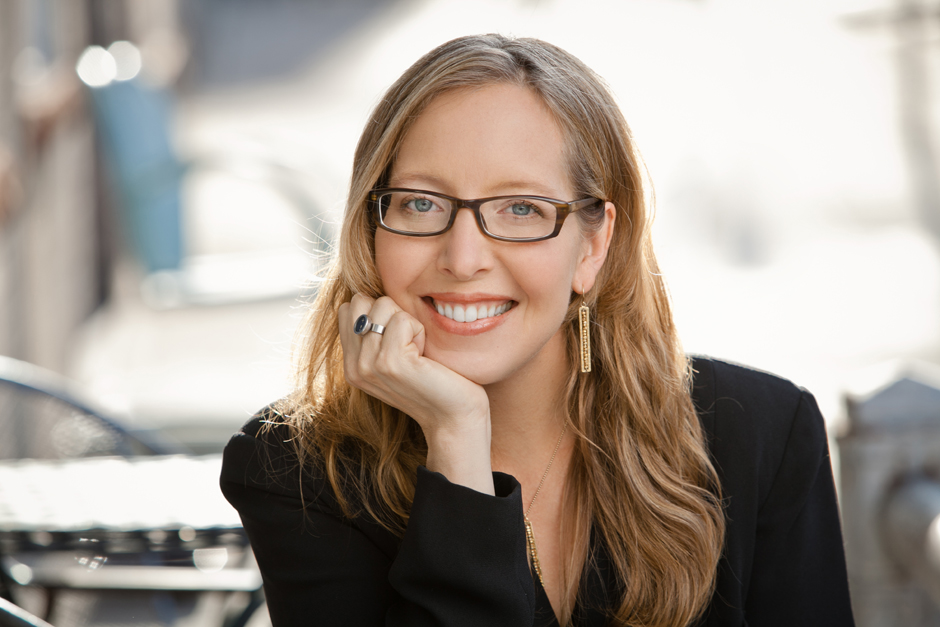 Frequently Asked Questions


When does the course start and finish?
As PMI Ascent is in its pilot phase, this course will be available for one (1) year.


Can I submit this course for Professional Development Units (PDUs)?
Yes, by completing this course you can submit four (4) Leadership PDU and three (3) Strategic/Business PDUs by self-reporting in PMI's Continuing Certification Requirements System (CCRS).


Are there any prerequisites for this course?
There are no prerequisites for this course.


Can you help me get this course approved by my Human Resources team?
Yes, please feel free to download and complete this template which explains the benefits of the course.



About PMI Ascent
PMI Ascent is a new platform delivering on-demand, e-learning courses designed to give you the knowledge and tools needed to take the next step in your career.
Choose from a curated collection of high-quality, premium courses developed by world-class subject matter experts. PMI Ascent is a convenient way to keep up with skills being demanded in the modern workplace.