Effective management is what separates great projects from the rest. This course demystifies the "soft skills" you'll need: how to innovate, hire, focus, communicate, and measure performance.

PMI Ascent Certificate of Completion
Gain leadership skills that can be put into action.

---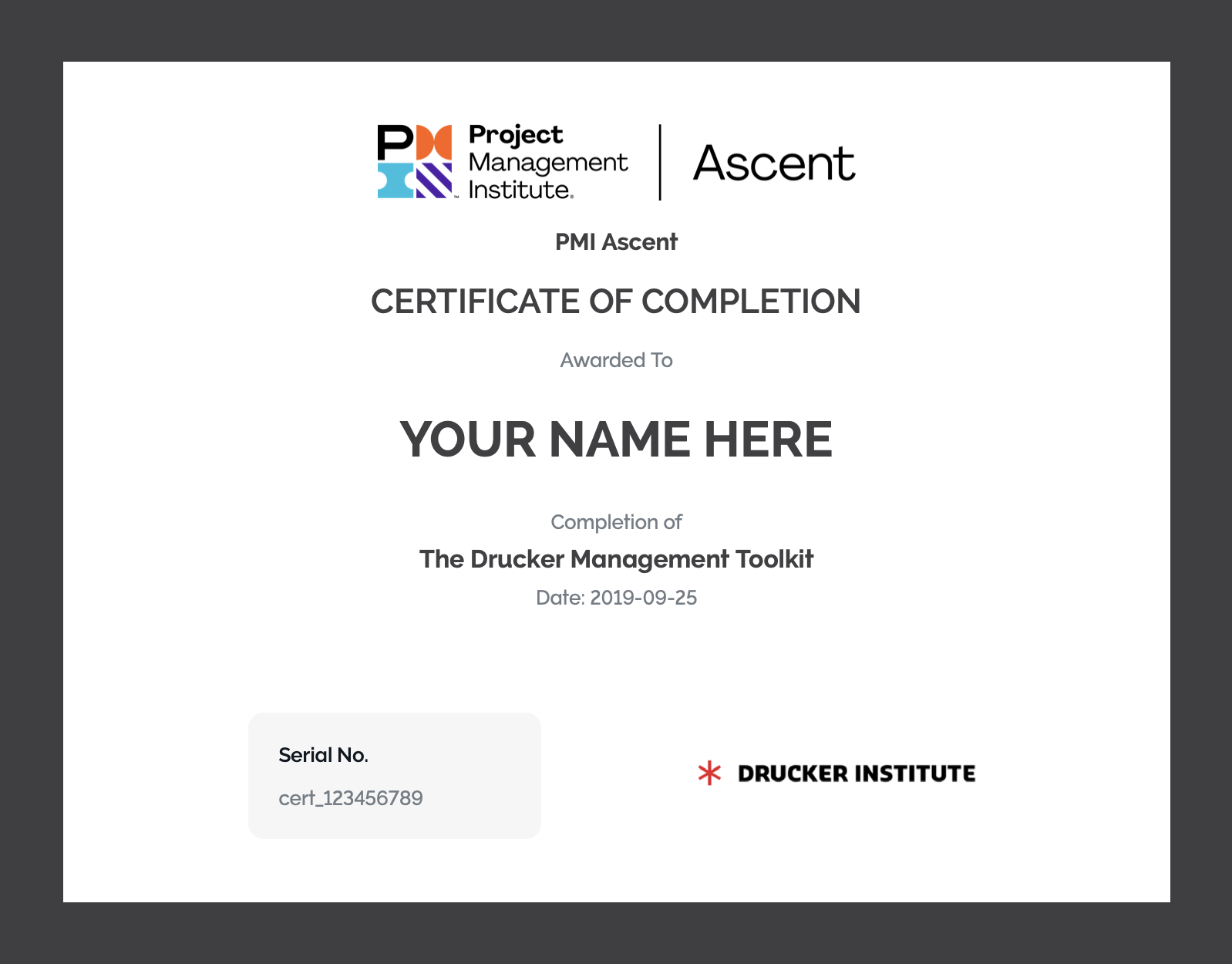 Why should I take this course?
This five-hour course helps busy management professionals move from ideas to action. Tapping Peter Drucker's vast trove of books and articles, along with rare video and audio materials from the Drucker Archives, you will have the opportunity to learn directly from "the man who invented management." The content is also rich with cameos by some of today's leading management minds, including Jim Collins, Charles Handy and Marcus Buckingham. Designed to elevate managerial "soft-skills," these practical courses are self-paced and ready wherever and whenever you are.
We have also provided you with a template to submit for approval to your Human Resources team. See our FAQ section below to download the template.
---
What will I learn?

The Drucker Management Toolkit features five content areas designed to boost a manager's performance and effectiveness using the timeless insights of the late Peter Drucker. The course is delivered through: lectures by Drucker Institute instructors; dynamic animations to help you visualize concepts; excerpted readings from Drucker books; original video footage of Drucker himself; and engaging activities to get you moving from ideas to results.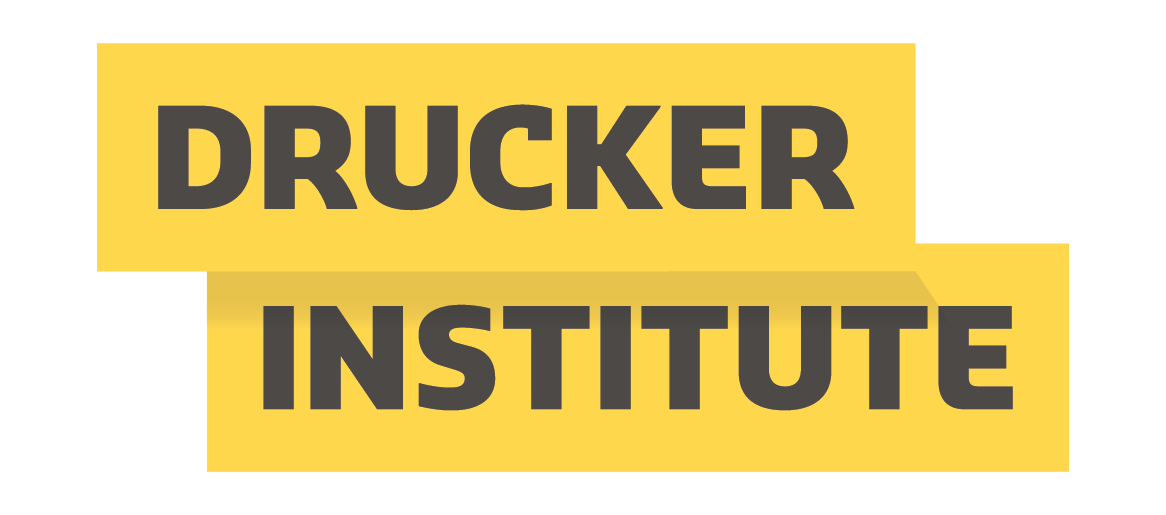 Course Description
"How to Make Tomorrow" will help you learn to manage the process of innovation more effectively through content based on Drucker's 1985 landmark book, Innovation and Entrepreneurship. You'll learn how to spot opportunities to innovate, as well as some of the basic "do's and don'ts" for creating a truly entrepreneurial team, department or organization.
"Managing Your Most Precious Assets" will help you learn to make effective hiring and staffing decisions through exploring Drucker's five steps for effective promoting and staffing, the factors that determine a good or bad hire, the role that strengths play in effective staffing and how to tackle the tough staffing cases.
"Out with the Old," will help you understand Drucker's definition of "Planned Abandonment," learn how to use Drucker's "Business X-Ray" (a tested framework for determining what to stop doing) and explore the importance of sloughing off the old in order to create the new.
"Talk Up, Listen Down, Share Across," will help you learn to communicate more effectively across your organization or team. You'll learn Drucker's definition of "Sideways Communication," how to use Drucker's "Manager's Letter" (a tested framework for managing communication up and down the organization), as well as how the individual can enjoy more success within the organization, and how the organization can enjoy more success overall, by communicating more effectively.
"Control and Controls," will help you ensure that your team is measuring the right things and directing resources the right way as you explore Drucker's definitions of "control" and "controls," learn how to use the Drucker Control Board (a framework for managing data and resources) and how to shift your focus from simply solving problems to maximizing opportunity.
Your Instructor
The Drucker Institute was founded by Peter Drucker to carry forward his ideas and ideals. Since 2007, we have worked with thousands of leaders from major corporations, nonprofits and government agencies to help make them more effective—that is, as Drucker defined it, "doing the right things well."
These practical courses are self-paced and ready wherever and whenever you are.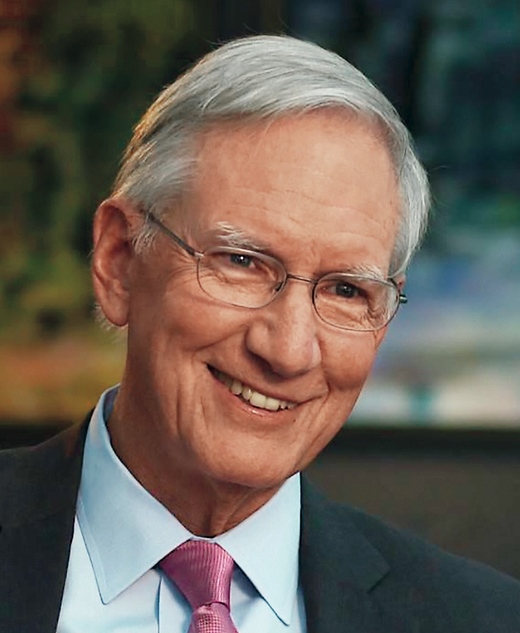 "The creator and inventor of modern management."
- Tom Peters, The co-author of In Search of Excellence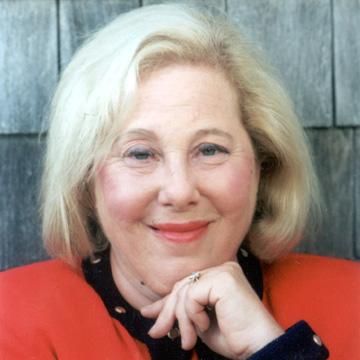 "Peter Drucker's eyeglasses must contain crystal balls because he anticipated so many trends."
- Rosabeth Moss Kanter, Harvard Business School
Frequently Asked Questions
When does the course start and finish?
As PMI Ascent is in its pilot phase, this course will be available for one (1) year.
Are there any prerequisites for this course?
No, there are no prerequisites for The Drucker Management Toolkit.
Can I submit this course for Professional Development Units (PDUs)?
Yes, by completing the The Drucker Management Toolkit course you can submit four (4) Leadership PDUs and two (2) Strategic/Business PDUs by self-reporting in PMI's Continuing Certification Requirements System (CCRS).
Can you help me get this course approved by my Human Resources team?
Yes, please feel free to download and complete this template which explains the benefits of the course.

About PMI Ascent
PMI Ascent is a new platform delivering on-demand, e-learning courses designed to give you the knowledge and tools needed to take the next step in your career.
Choose from a curated collection of high-quality, premium courses developed by world-class subject matter experts. PMI Ascent is a convenient way to keep up with skills being demanded in the modern workplace.