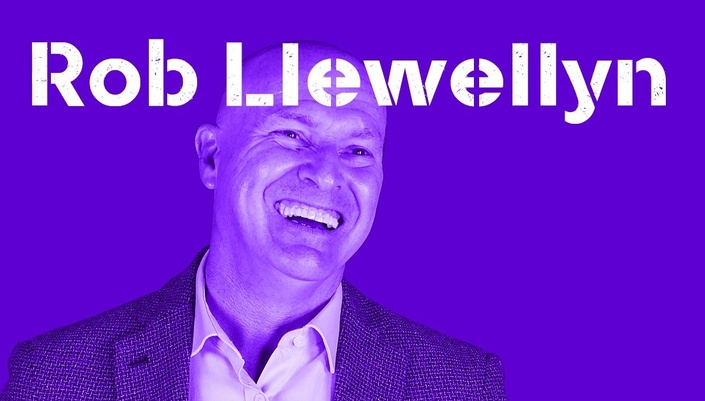 Digital Business Transformation Management
For Seasoned Project Managers Who Are Ready to Step Into the World of Digital Business Transformation Management and Leadership
Watch Promo
The world's only course where you can learn how to orchestrate digital business transformation using the six guiding principles collectively known as THRIVE.
Why Should I Take This Course?
Seasoned project managers already know the importance of a sense of urgency, planning, accountability and other prerequisites for successful project management. This means they have a significant head-start over others who aspire to manage and lead transformation.
This course equips seasoned project managers with a framework that complements their existing knowledge and experience, to help them orchestrate transformation from a 360° holistic perspective.
Who Should Take This Course
Seasoned project managers ready to build upon their core expertise should take this course. If you are ready to start helping senior executives steer their organizations into the digital economy, this course is for you.
That said, every senior manager or leader involved in transformation should have a solid understanding of the concepts taught in this course.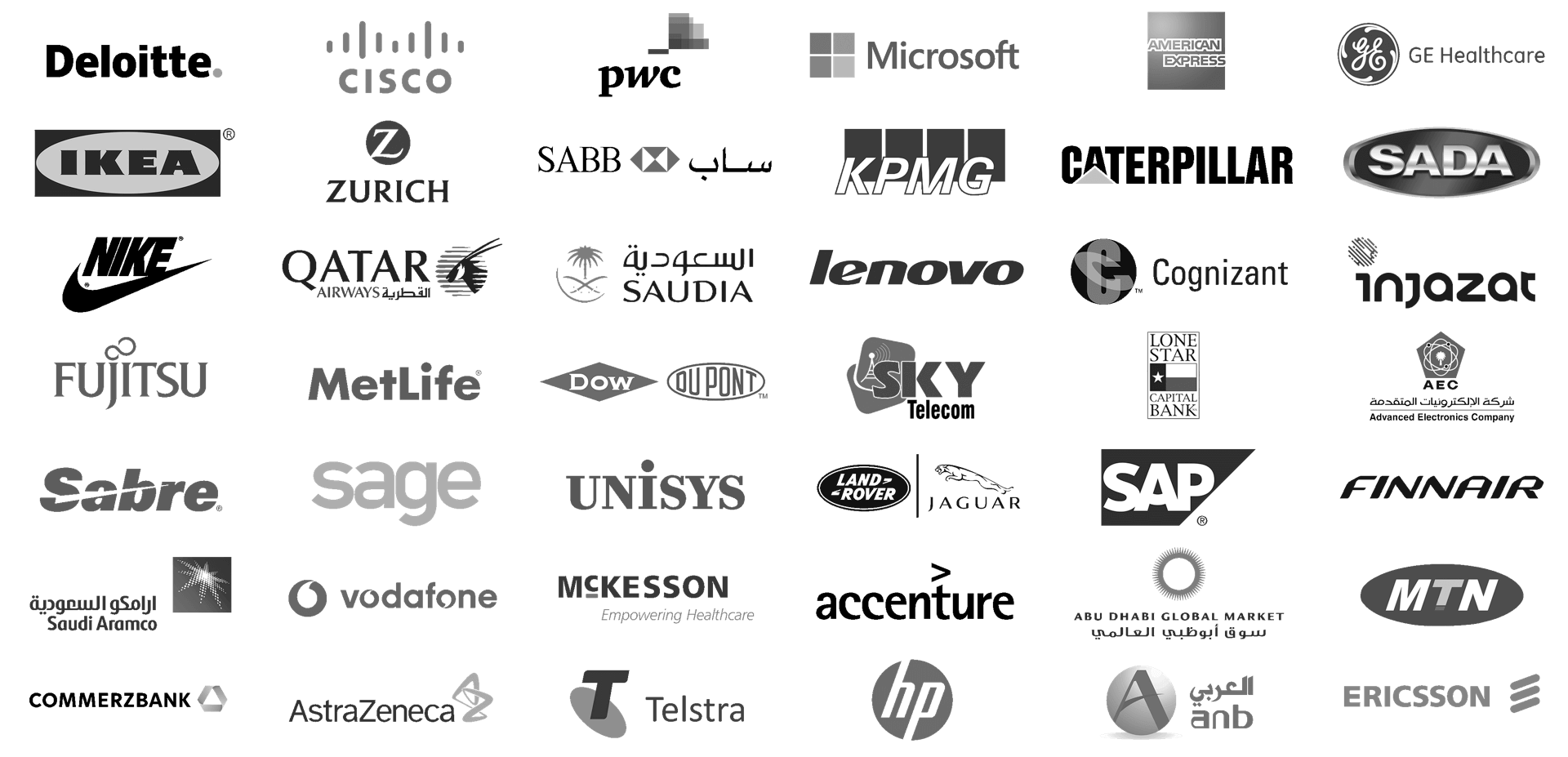 What Will I Learn?
In over 100 bite-size lessons, you will learn how to orchestrate digital business transformation at companies with workforces that range from several hundred to several hundred thousand. From strategy through execution and value realization, you will gain a broad knowledge of transformation that no digital economy executive can afford to ignore.
---
Course Description
Module 1 - Transformation: Learn the fundamental difference between change and transformation, and how transformation is about creating a new future, without the constraints of the past. You innovate, digitize and transform. While change simply creates a better version of the past.
Module 2 - Holistic: Learn how transformation requires a fundamental shift in multiple components of an organization. Governance, mindsets, business models, innovation, digital use cases, etc. THRIVE equips you to facilitate a Holistic approach to transformation, and avoid the blinkered and siloed approaches that many take.
Module 3 - Response: Learn how to help organizations respond strategically to the opportunities and threats they are presented with - both inside their organization, and externally in the market. Also learn how to encourage appropriate leadership mindsets, workforce culture and capabilities required to transform strategy into reality.
Module 4 - Innovation: Learn that while Cloud, Mobile, the Internet of Things and Robotics, etc. can bring about the most rewarding business transformation when used strategically, only through the innovative convergence of digital technologies can companies truly transform through new business models and ways of working.
Module 5 - Value: Understand that transformation happens to create value, and so value needs to be measured, which means transformation leaders need to ensure they are gathering the right data to measure both the tangible and intangible value of digital business transformation, and reporting it to executives.
Module 6 - Enterprise: Learn how transformation must encourage, embrace and educate people from across the enterprise and build a collaborative culture of new capabilities and mindsets. Opportunities to upgrade workforce capabilities need to be identified and people made to feel safe and comfortable about innovation, success and failure.
Module 7 - Roadmap: Learn how in a non-prescriptive manner, the THRIVE roadmap can help you draw upon the six THRIVE guiding principles and the body of knowledge in a way that works best for your organization.
Module 8 - Exam: Prepare yourself using the revision tests in the seven previous modules to pass the final multiple choice online exam and become certified.
Your Instructor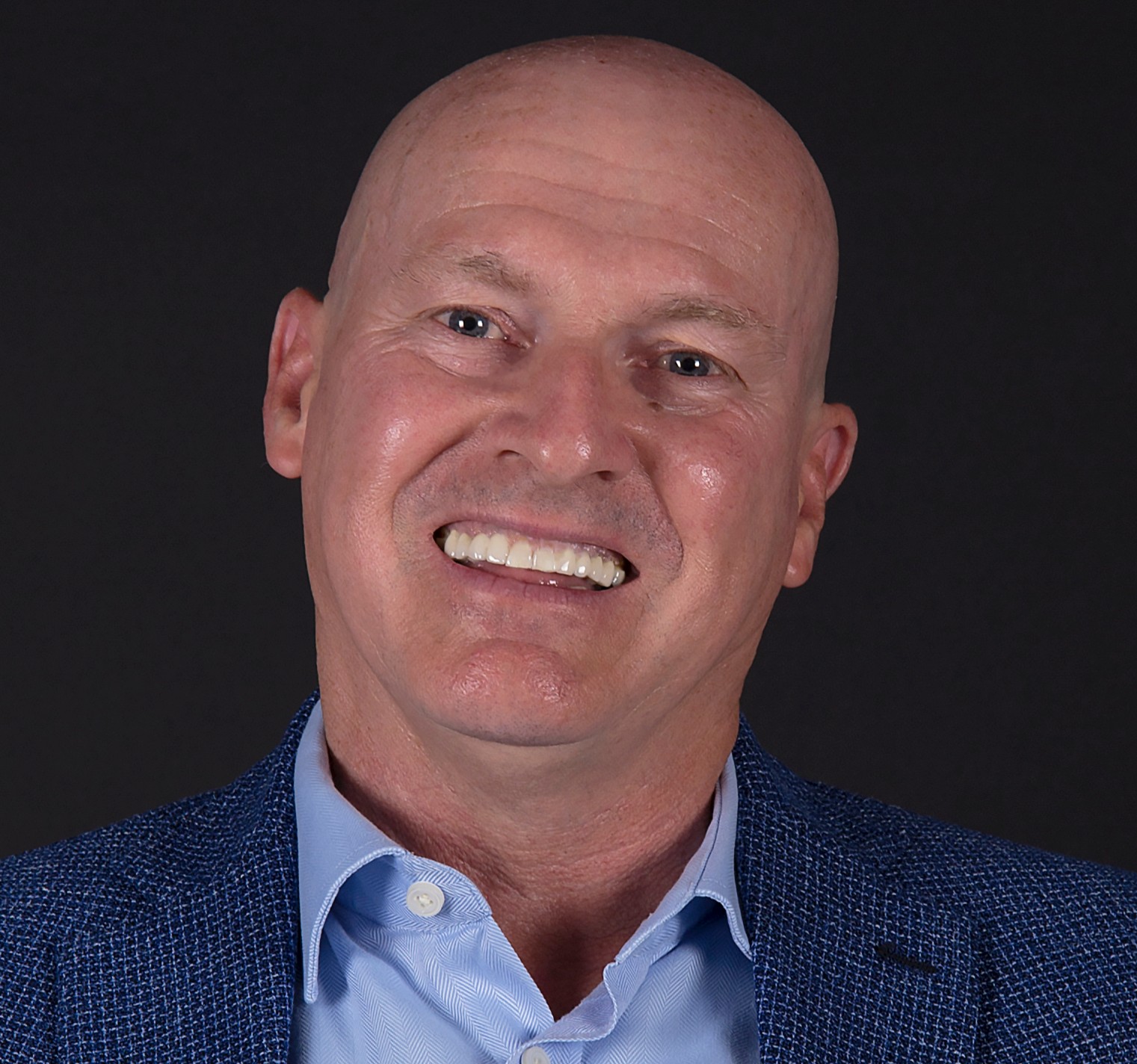 Impartial and internationally respected, Rob has enabled some of the world's best known firms generate commercial value from people, processes and technology, and helped turn managers and leaders into transformation masters.
His place in the transformation space resulted in the launch of CXO Transform - a platform dedicated to helping seasoned professionals get better equipped to manage and lead transformation. Rob is host of the 'Leading Digital Transformation' podcast and has published hundreds of articles on the topic of transformation.
While he addresses executive audiences at conference halls throughout the world, Rob's digital footprint and strategic partnerships have enabled him to contribute to the careers of thousands of transformation professionals in over 60 countries.
Read What People Say About The Course ...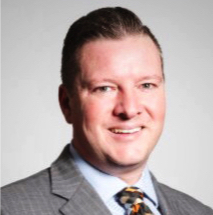 "In today's changing business environment, I found this course in digital business transformation to be of great value. So many genuine concepts and framework that outline real world experience. I'd encourage others who are interested in digital business transformation to enroll and complete this course. This is an excellent course — definitely worth checking out!"

- Matt George | Director at Deloitte | Australia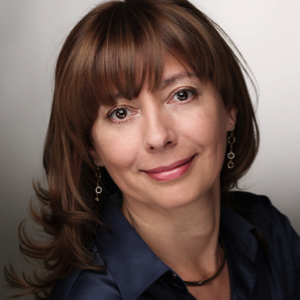 "The course provides all the content needed to establish and make real progress in the digital transformation process. I appreciated the comprehensible THRIVE framework and the clear transformation roadmap - very valuable tools that I feel confident to use in current or future digital initiatives. This is an excellent course — definitely worth checking out!"
- Mihaela-Christina Radoi | Head Investment Banking IT at Commerzbank | Germany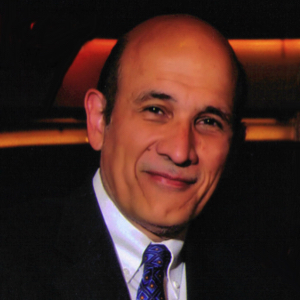 "I really enjoyed the Digital Business Transformation Management course. I found specially interesting the THRIVE Framework, which provided a comprehensive view about the issues to reflect and to consider to successfully (and really) transform the business. I highly recommend the course to professionals interested in learning more about Digital Transformation and the ones exploring proactive approaches for digital disruption via new business models. Great class!"
- Antonio Urquiza | AVP Finance Transformation at Met Life | USA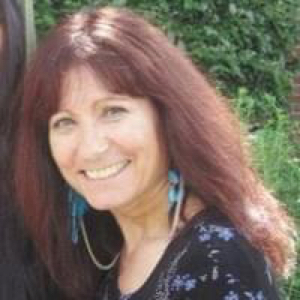 "This course provides a holistic perspective of all aspects of digital transformation management. I highly recommend this course if you are interested in understanding proactive approaches to digital disruption through new and innovative business models.

- Benita C. Meiser | Business Transformation Leader at ABM Industries | USA
"Excellent content - very applicable to the role I am currently engaged on. Other transformation professionals should enroll in the course because it provides good insights and knowledge for digital programs.This is an excellent course."
- Uzair Waheed | HR Transformation Lead at Aramco | Saudi Arabia
Transform your performance and your digital economy career prospects
The fact that thousands of transformations are now struggling, stalling or not even getting started, demonstrates the massive shortage of transformation management capability throughout the world. Many senior managers and leaders are suffering because while they understand how to manage and lead their "operational" business, they often have limited knowledge, experience and time to successfully manage and lead the "transformation" of their business.
As a result, firms are willing to pay well for the new transformation management professionals they need to achieve strategic goals and satisfy stakeholders.
If it's time for you to acquire the knowledge and certification you need to enter or excel in one of the most exciting careers of the century, this training is for you. Not only will it help you secure the best transformation roles, it will also upgrade your capabilities so you can perform at your best in any current transformation role.
By taking this course, project managers can complement their existing expertise with two key components that can advance a career in digital transformation management career: Transformation Knowledge and Certification.
What You Get Access to
- Over 7 hours of video lessons consisting of over 100 bite-sized videos
- Each video is accompanied by a text transcript
- Heighten your learning experience by both reading and listening
- Over 70,000 words of written material
- Multiple-choice revision tests in each of the 7 modules

- Online Digital Transformation Management Certification exam
- Freedom to re-take the final exam if you don't pass first time round
- Course content available 24 x 7 via an Internet connection
Play the video to hear more from Rob Llewellyn
Earn a Digital Business Transformation Certification
- Leverage the six guiding principles of digital business transformation
- Take the world's only online training for the THRIVE framework
- Become the obvious choice to lead transformation initiatives at your firm
- Add weight to your credentials after your training and certification
- Perform in the way your stakeholders expect you to
- Outperform other candidates with digital transformation certification
- Learn and get certified at your own pace and in your space
Think about it ...
Advanced education remains one of the most significant barriers for high-wage jobs around the world. When you combine advanced education with certification in transformation management, you have a recipe for boosting your career and quality of life. We'll then register your credentials on the blockchain, which verifies them to companies and provides you with a powerful digital marketing tool.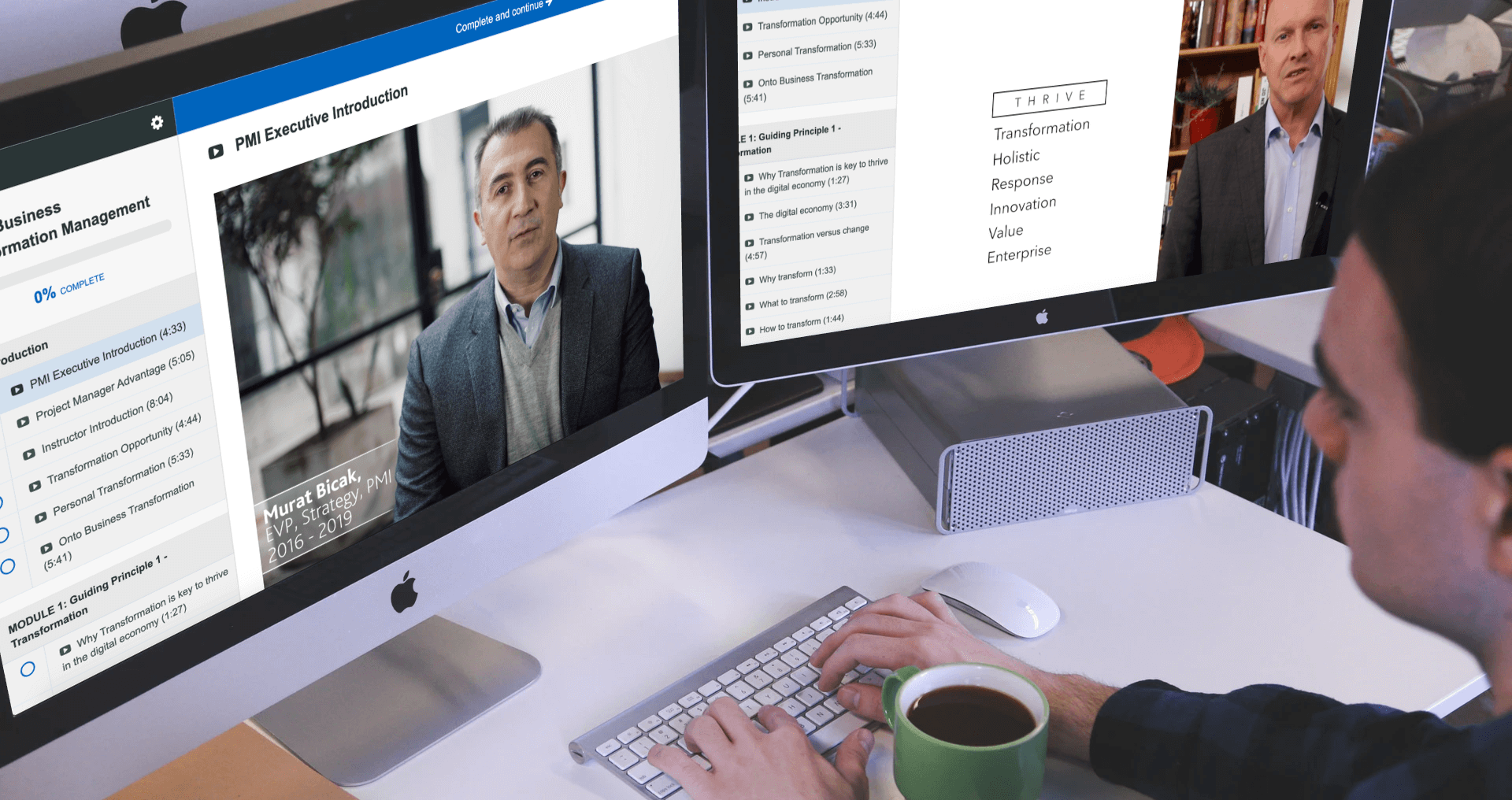 Certification Registered on the Blockchain
Providing you answer at least 80% of questions correctly in online multiple choice exam, you will be awarded the THRIVE Digital Business Transformation Management Certificate. This will immediately add credibility and weight to your CV/Resume, LinkedIn profile, job interviews, internal promotions, and separate you from the crowd.
Your digital certificate will be registered on the blockchain, cryptographically signed, and tamper proof. Powerful social sharing features enable you to quickly promote your credentials across 100s of social media channels.
You'll also get a unique link to your own web page like the one below.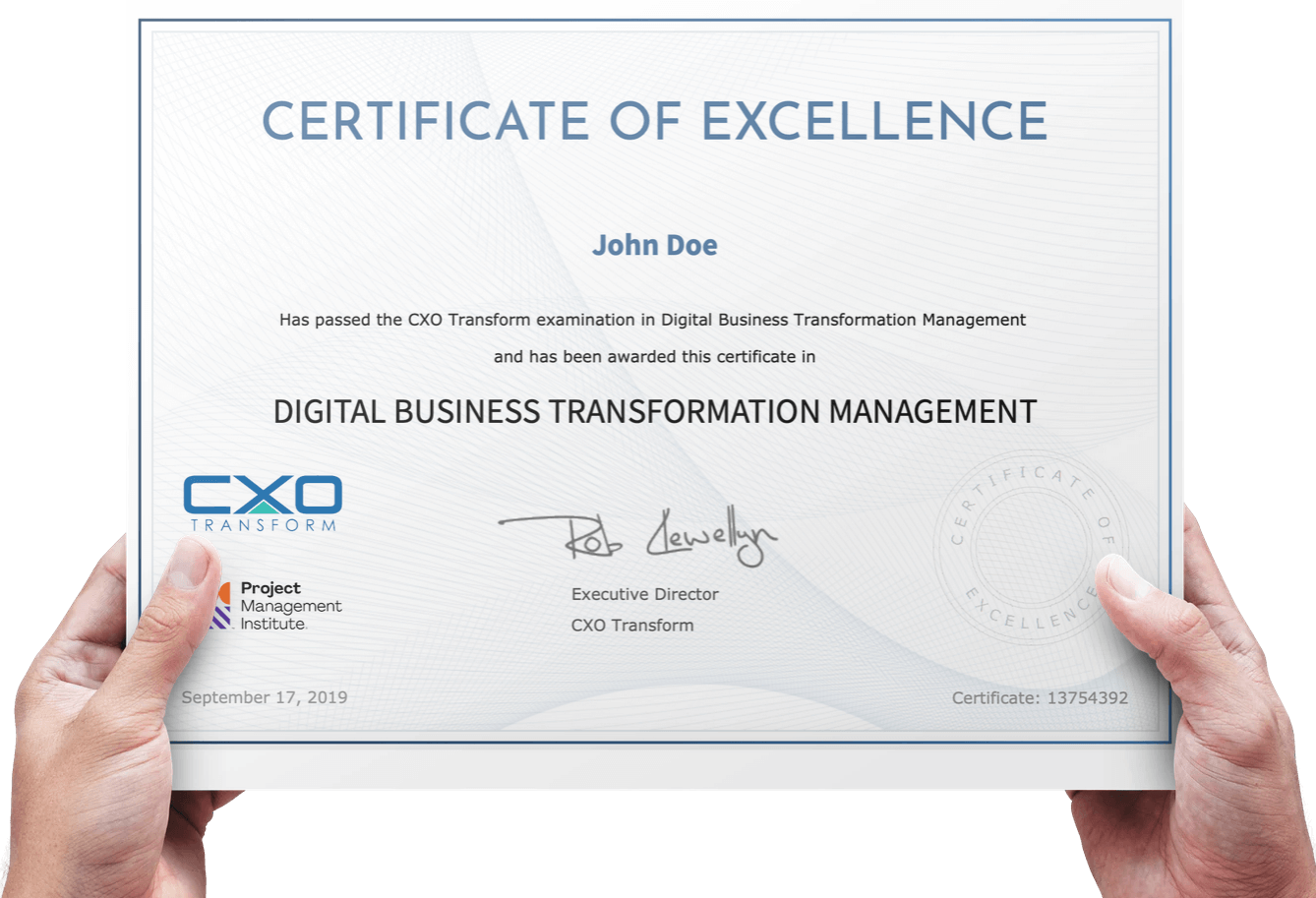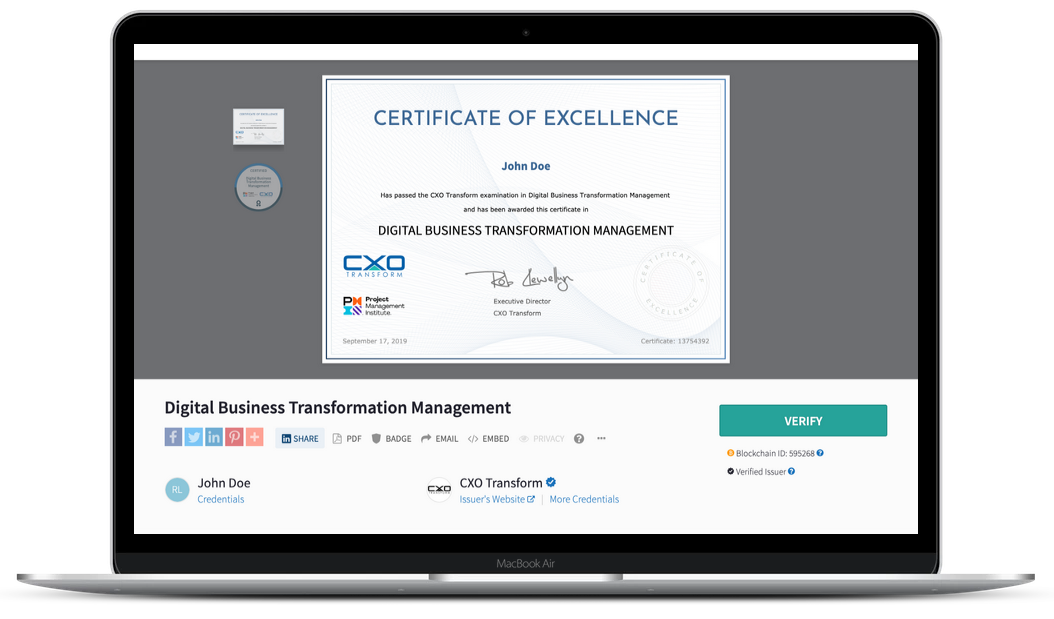 Reasons to Get a Certificate in Transformation Management
There are many reasons to earn a CXO Transform certificate in Digital Business Transformation Management. Obtaining a certificate is professionalism defined.
Earning your certification is like having a key to the vast world of opportunities the transformation profession offers, placed in the palm of your hand. It can open doors you did not even know existed, as your achievement of certification will make one powerful statement about the expertise you bring to the table.
Ultimately, becoming certified will:
- Help you earn credibility and respect in your field
- Open more opportunities for advancement
- Increase your earning potential
- Enable you to pick and choose the roles you want
- Prove your willingness to invest in your own development
- Demonstrate your commitment to your profession
- Separate you from the crowd of uncertified experts
- Improve your transformation skills and knowledge
- Build confidence in your knowledge of the profession
- Help you manage large-scale transformation more successfully
- Position you to guide and advise senior managers and leaders
- Launch you on a high-potential digital economy career path
Marketability
In an increasingly competitive global employment landscape, certification allows individuals to differentiate themselves from others. For hiring managers in any field, certification affirms that an applicant is driven to achieve, shows commitment to their profession and, most importantly, possesses validated knowledge and skills.
The CV that denotes professional certification is more likely to be placed in the "interview pile." Certification also helps managers identify employees with the latest skills, knowledge and drive to move into leadership positions.
You'll also be able to take advantage of the digital marketing features we make available to you (free) via your unique URL to your credential on the blockchain. A powerful tool to promote you across 100s of social media channels.
Take Your Exam Via Our Online Certification Centre
Taking your final exam could not be easier or more convenient. You simply log in to your account from anywhere in the world and start the timed exam, when and where it suits you - once you feel ready to pass the exam and secure your certification.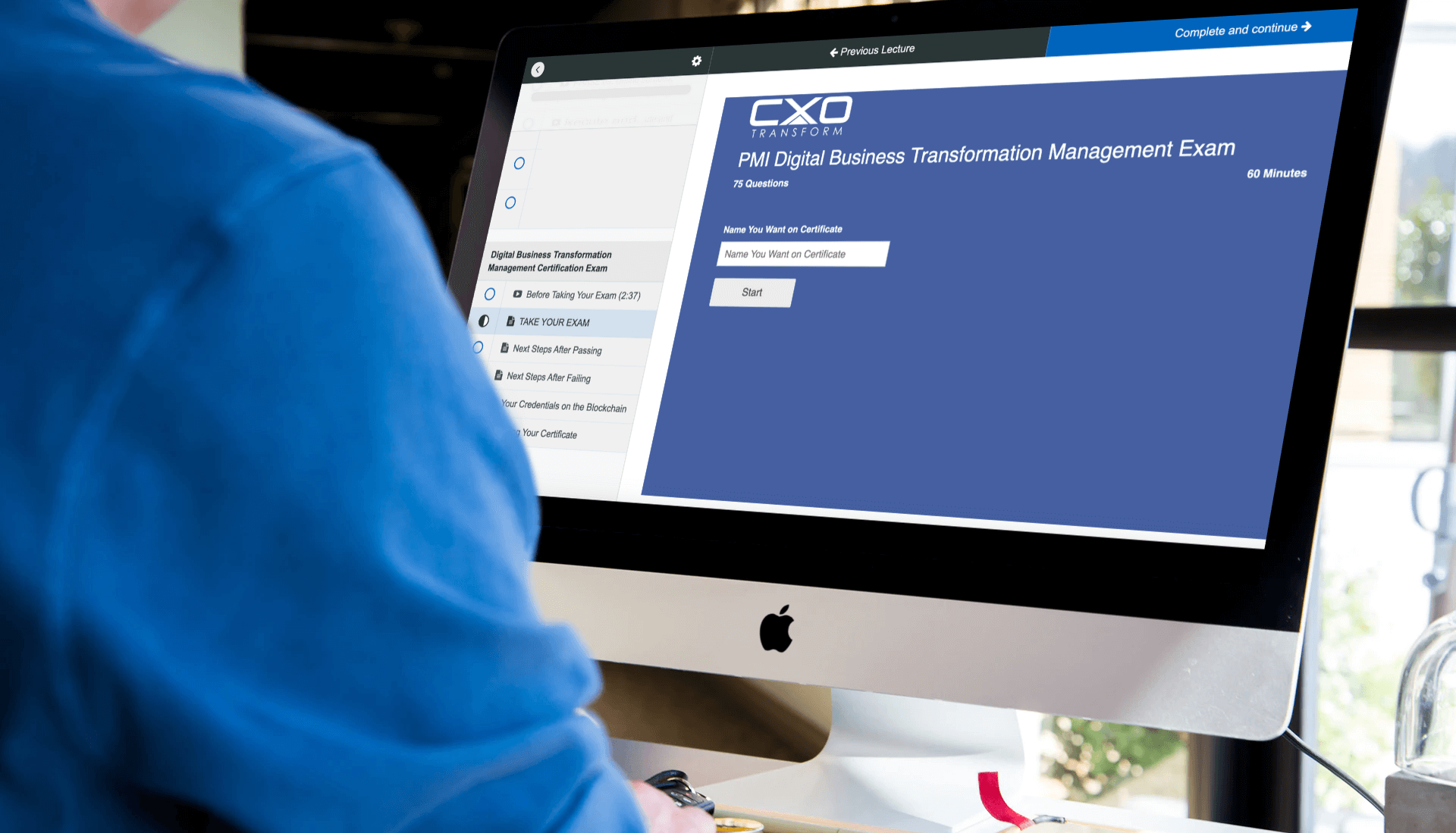 NOTE: If you score less than 80% you can re-take the exam at no extra charge after 15 days.
Your Credentials Authenticated on Blockchain
After you pass the exam, your certificate will be issued to you via the blockchain. You will receive a unique URL to share your digital credentials to employers and anyone else you choose to - including 100's of social networks.
This course is closed for enrollment.
10 Outcomes The Course Can Help You Achieve
1. Be among the small number of Certified Transformation Managers available
2. Secure cutting edge digital transformation initiatives to work on
3. Reassure hiring managers with your transformation knowledge and certification
4. Help teams work with one common approach to transformation
5. Remove resistance to innovate, digitize and transform
6. Get involved with initiatives that are both innovative and transformational
7. Move on from working with firms that lack budget, capability and ambition
8. Help executives recognise the real business value of your digital initiatives
9. Persuade executives to be more ambitious with both funding and innovation
10. Outperform your competition in the race for the best transformation roles
CXO Transform founder and instructor Rob Llewellyn, addresses 200 top European executives
A Note From The Course Creator
By taking this course, you will acquire the broad knowledge you need to confidently convey to companies why you are the individual they need to help lead or manage their transformation. Transformation that executives need to focus and depend upon in the digital decade ahead - a critical component of their boardroom agenda.
The Transformation Master certification I acquired in 2014 set me up extremely well to get invited by many multi-nationals to assist them with their transformation challenges. Not to mention the many invitations I receive to contribute to books, speak at international conferences, and take on consultancy work. I have a lot to thank that training and certification for!
By working your way through our course, you'll acquire the knowledge you need to innovate, digitize and transform any organization in any industry, in any country. You'll exit the course with more transformation knowledge than most senior managers and leaders have these days.
You expertise in digital transformation will be reflected in the Digital Transformation Management Certification you can acquire. This will set you apart from most professionals who lack any form of digital transformation training and certification. This will put you head and shoulders above others when applying for the most sought after transformation management roles.
I hope you'll go onto enjoy the benefits of being both trained and certified in the way that I have.
- Rob Llewellyn | CEO of CXO Transform
Frequently Asked Questions
Can I submit this course for Professional Development Units (PDUs)?
Yes, by completing the CXO Transform course you can submit three (3) Leadership PDUs, two (2) Technical PDUs, and three (3) Strategic/Business PDUs by self-reporting in PMI's Continuing Certification Requirements System (CCRS).
When does the course start and finish?
The course starts as soon as you enroll and start learning. You have access to the course and exam for 12 months.
Is the entire course online?
Yes. The course is 100% online video - after all, this is the digital age. So we have removed physical costs such as travel and accommodation by digitizing the entire course. We have also removed the inconvenience of having someone else determine how, when and where you can listen to lessons. You are both accountable and in control of your own learning and certification experience.
What will I get if I pay for this course?
You will have access to all of the features and content you need to earn a Course Certificate. If you complete the course and successfully pass the final exam, you will receive an electronic certificate. You can print your certificate or add it to your LinkedIn profile or web site.
In what format will I receive my certificate?
We use a digital credentialing solution, which means that once you have passed the examination, your certificate will be issued in digital format on the blockchain.
Certificates registered on the blockchain allow us to issue digital proof of your achievement in a shareable format, which you can use when applying for your next transformation role.
What Are Blockchain Credentials?
CXO Transform uses blockchain technology to store an immutable record of credentials.
The blockchain is an incorruptible digital ledger of economic transactions that can be programmed to record not just financial transactions but virtually everything of value. Anything that we write to the blockchain can't be altered in the future by any party.
When your certificate is issued, we use the information provided to create a series of numbers that represent that information. We send this information to the blockchain and store it there. Whenever someone goes to verify a credential we check the stored series of numbers against what the credential information generates today and make sure they're the same. We issue verifiable credentials on the blockchain to help prevent fraud.
With paper certificates a key barrier to fraud could be broken with Photoshop or photocopier skills. With digital credentials fraud is harder.
We use the blockchain to cryptographically seal a record of our Digital Business Transformation Management credential so that third parties can be absolutely certain that a record hasn't been altered since being issued. This dramatically improves fraud protection.
Can I share my credential on other social media channels?
As you worked so hard to earn your credential we wanted to make it as easy as possible for you to shout about your achievement from "the roof tops" so to speak. So we have enabled one click sharing to hundreds of social channels.
Is private information available on the Blockchain?
No private or personal information is stored on the blockchain. The only thing stored on the blockchain is a series of numbers mathematically derived from the credential information. We can use this series of numbers to verify that the content displayed matches the original record.
Can I print my certificate?
Yes. First, you need to go to your certificate. It will be at a URL like https://www.credential.net/lcxsnr1z On the sidebar for your certificate, click 'Download PDF'. This may take a moment, but once it's done, a PDF copy of your certificate will open up in a new browser window. Once you are on the PDF, you can print the certificate by going to File > Print in your browser window. You can also save a copy of the PDF and print at your convenience in the future.
Can I add my credential to my LinkedIn profile?
Absolutely - and so you should!
To add your credential information to LinkedIn, you simply need to enter some information in a form on LinkedIn. Once your certificate is issued, you'll find links to show you how to do this on your certificate page.
Will I receive a digital badge?
Yes. Badges are a quick way for you to show off your skills and credibility in a specific area. Our badges are Mozilla Open Badge compliant, which means that you can have them officially recognised in lots of places in including things like a badge backpack or an Open Badge compliant portfolio. You can download a copy of your badge, add it to your email signature or embed it to your website or blog. We have also made it as easy as possible for you to share your badge across 100's of social channels.
How does the Blockchain prevent fraud?
Once we've recorded a credential on the blockchain it cannot be altered, faked or spoofed. If someone attempts to create a credential that looks like your credentials it won't verify against the blockchain record. The blockchain is the perfect registry for any type of public and private record. It's a unique notarisation platform requiring no central authority, and no single point of failure. The blockchain is global, uncensorable, permissionless, and resilient. Your digital transformation management certification will reside on the blockchain. Not on an antiquated piece of paper or PDF file.
What is the course based on?
The course modules and lessons are structured around the six guiding principles of the THRIVE Digital Business Transformation Framework.
---

About PMI Ascent

PMI Ascent is a new platform delivering on-demand, e-learning courses designed to give you the knowledge and tools needed to take the next step in your career.
Choose from a curated collection of high-quality, premium courses developed by world-class subject matter experts. PMI Ascent is a convenient way to keep up with skills being demanded in the modern workplace.
Digital Business Transformation Management Waitlist
This course is closed for enrollment.